Ethiopia and Djibouti are not the travel destinations that one thinks of at first sight for his holidays!
People who have never been there, often see these 2 countries as unsafe places and characterized by the great poverty of their population.
However, travelling to Ethiopia or Djibouti does not put you at any greater risk than in most of the more popular tourist destinations, but it does have the advantage of taking you to places off the beaten track.
1. Security and geopolitical situation in Ethiopia and Djibouti
In fact, Djibouti has long been a "haven of peace" in a troubled region where only the border areas with Somalia and Eritrea are to be avoided, and relations with the latter country are calmed at the time of writing.
Ethiopia very occasionally experiences localized clashes between certain ethnic groups; naturally it is recommended not to be around when they occur, but foreigners are not targeted in any way.
At the end of 2020, the opposition between the central Ethiopian power and that of the Tigray region had degenerated into an armed conflict and banned tourism in part of northern Ethiopia. However, the other regions of this great country remained open to everyone. Since the end of April 2023, the situation in northern Ethiopia has normalized and the tour of Erta Ale and the Danakil desert is open again. Anyway, Africorn Travel only goes to places where its travelers run no risk.
More generally, tourists passing through these 2 countries are never in danger because of their nationality, the colour of their skin or their religion, and are very well received by the local populations.
Even if a middle class is developing there, most of the inhabitants of these 2 countries is in a situation of extreme poverty, which only makes it more difficult to remarkable the sense of hospitality and joie de vivre that is omnipresent.
So there is no reason to deprive yourself of a trip to Djibouti or a trip to Ethiopia, which will be an unforgettable experience for you.
2. Whether it is Ethiopia or Djibouti, an adventure trip, far from our daily life!
First of all, traveling in these two regions of the Horn of Africa remains an "adventure". In Western nations, daily life is organized and thought out a long time in advance, nothing is left to chance; here we live in the present and in Djibouti, the expression "inchallah" usually concludes conversations about what to do tomorrow or in the days that follow...
Here for this which is in the material domain, very often still the "best" is obviously the enemy of the "good" but the system "D" ends up solving all the problems.
3. Ethiopia or Djibouti: an exotic journey
In many places of Djibouti and Ethiopia where you pass or stay, Europeans are rare. Sometimes you will even be alone with the beautiful nature that surrounds you... Impression sometimes misleading, because the nomads of the apparently desert areas, are never very far.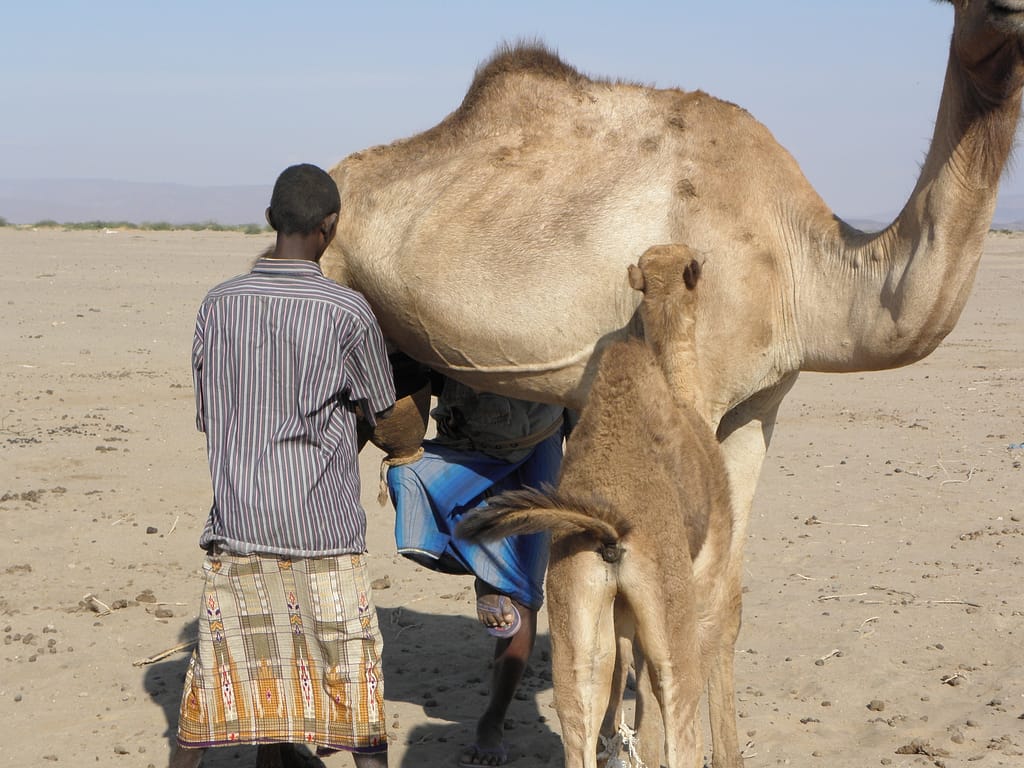 Whether in Djibouti or Ethiopia, discovery and unexpectedness are daily occurrences. The way of life, the habits, the modes of transport, the way of eating...the clothes, everything is different from what we know.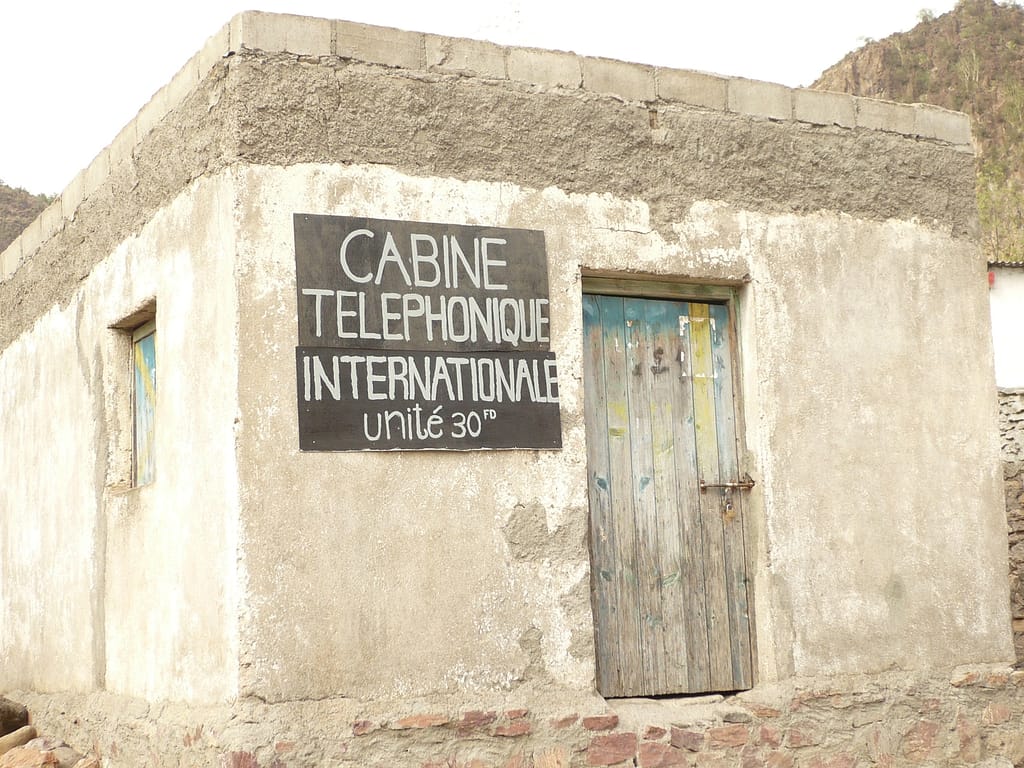 Whether you choose to travel to Ethiopia, or to Djibouti, total change of scenery is the common point of both destinations, but the similarity ends there. Apart from the common geography of their border area and the cultural identity of the Afar ethnic group present in both countries, Djibouti and Ethiopia are 2 worlds apart.
Travelling in Djibouti: between sea and desert
Djibouti is a young tiny state of 23000 km2 with a million inhabitants divided between 2 ethnic groups (65 % Issas and 35 % Afars), of Muslim religion. Djibouti is independent since 1977, four languages are spoken there (Arabic, French, Somali and Afar). Its economy, devoid of agriculture, relies mainly on the activity of its port, which is the obligatory place of passage for imports from neighbouring Ethiopia.
Its position at the entrance to the Red Sea, and at the crossroads of the African, Asian and European continents, gives it a geostrategic importance that explains the permanent military presence on its soil of the Chinese, American and French armies, to name only the most important.
Djibouti's seabed is a marvel that everyone can enjoy with a mask and a snorkel; the fauna is particularly abundant and diversified there, as evidenced by the beautifully illustrated book produced in 2018 by Bernard and Josiane Lips and Jean-Michel Roux https: //leclub-biotope.com/…/1003-fish-from-djibouti
Travelling in Ethiopia: Cradle of Civilization
Ethiopia is a huge territory of nearly 1,100,000 km2, with a population of over 100 million people, composed of 9 major ethnic groups (Oromo, Amhara, Tigrayans, Somali, Sidama, Gurage, Afar, Harari and Falashas). The majority Christian community (44 %), peacefully cohabits with the Muslim community (34 %); animists also have an important presence (11 %).
More than 80 languages are spoken in Ethiopia; there is no longer an official language since 1995; Oromo and Amharic are spoken by the most large number of inhabitants.
Ethiopia's roots are thousands of years old and the kingdom of Aksum was one of the most powerful of its time.
Ethiopia is the only country on the African continent, along with Liberia, to have escaped colonization, except for the period of Italian occupation from 1936 to 1941.
Ethiopia's economy is largely dominated by agriculture, which employs most of the population. The country no longer has a seafront since Eritrea's independence: most of the products it imports go through the port of Djibouti.
The choice of the trip: Ethiopia or Djibouti?
You understood it, whether you decide to travel in Ethiopia or Djibouti, the welcome of the inhabitants will be friendly and warm!
If you have about 8 days, a trip to Djibouti will be ideal to enjoy a total change of scenery during an adventure trip in 4×4, to discover the landscapes and typical camps of the country! Here are some examples of tours that I propose, from 8 days, between discovery of beaches, seabed and hiking:
Discovery tour of the beaches and campsites over 8 days
Hiking trails and sites in Djibouti over 12 days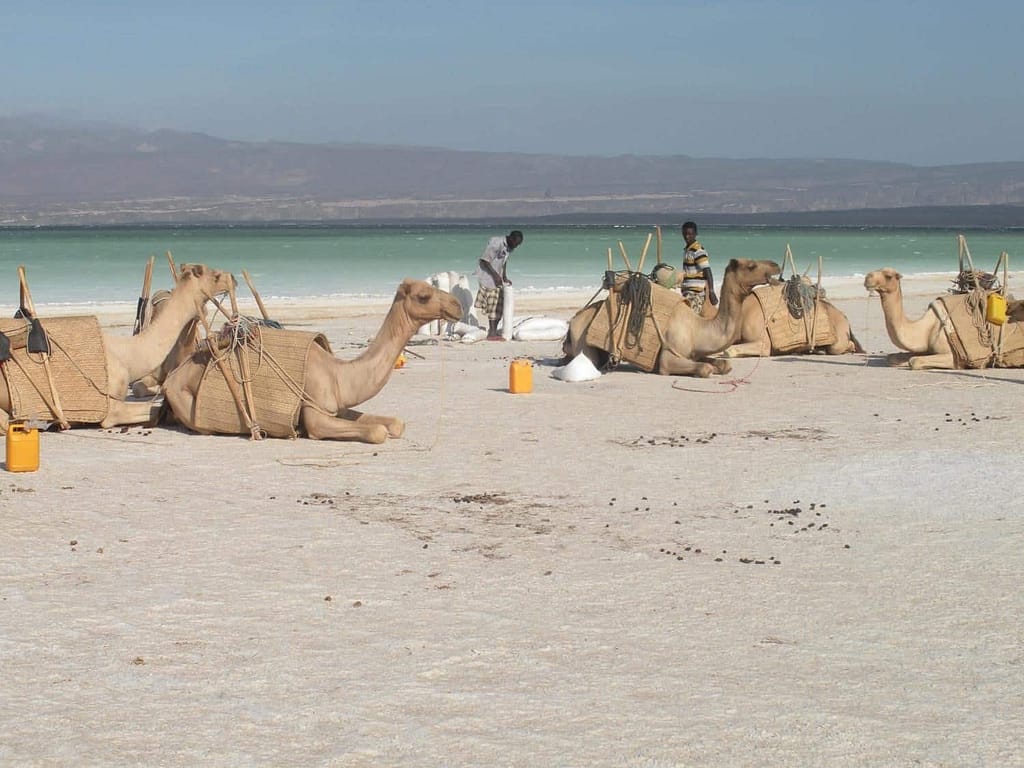 If you have more time, choose Ethiopia and according to your desires come and discover its lakes, its monasteries and churches, its mountainous massifs, its deserts.... the trips in Ethiopia are longer considering the size of the country, big as two times France :
Discover the Great Rift Lakes over 12 days
Monolithic churches and extraordinary landscapes of the north over 16 days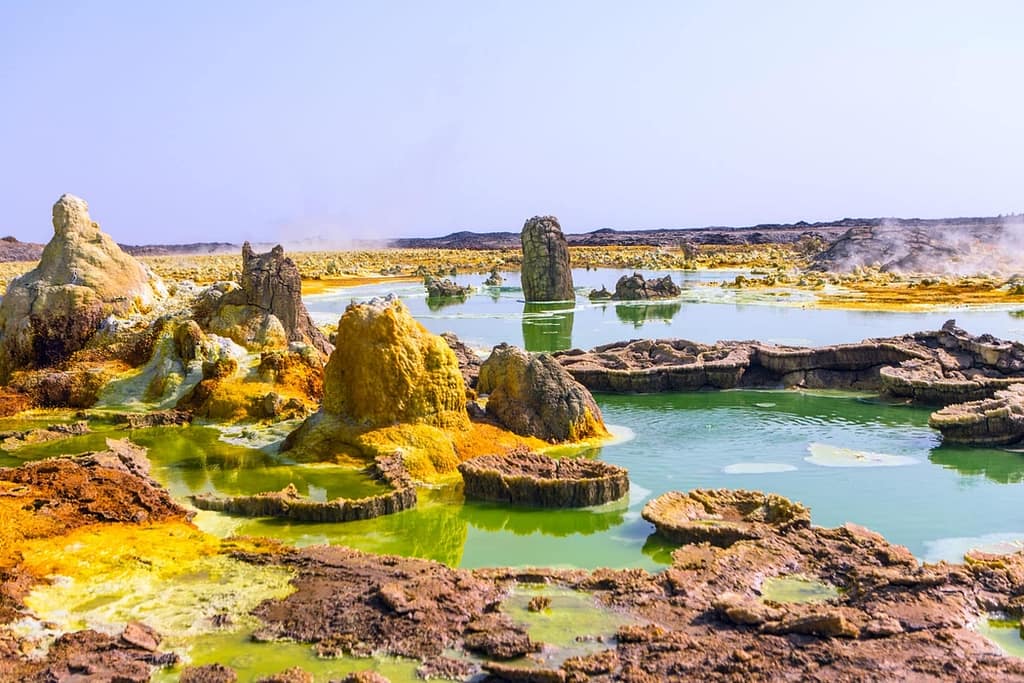 It is also possible to plan a trip to Djibouti and Ethiopia, during the same stay!
Of course, we are here to guide you in your choices according to your desires and your constraints in order to concoct a tailor-made stay! Do not hesitate to leave us your comments, to consult more information on the Horn of Africaor to us contact straight away!